Hello all
It has been quite a while since our last Guar Market Update! The price movement for Guar splits from the beginning of 2015 is depicted in the chart below.
As the North American Rotary Rig Count declined steeply from the beginning of Jan-15, Guar splits prices followed. There was a brief respite for Guar Splits prices when Brent Crude climbed back up to $66.16 a barrel.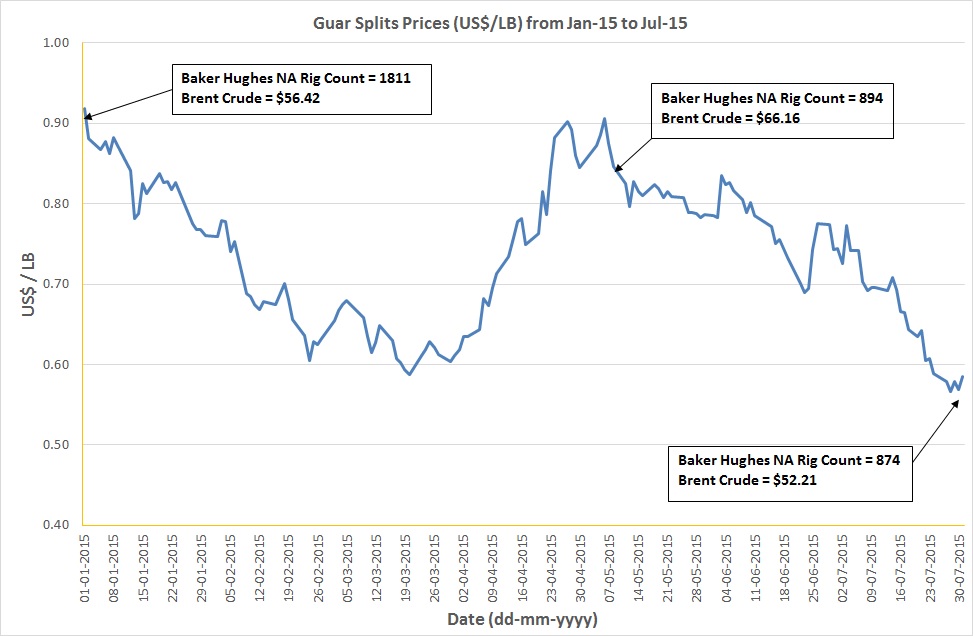 However now with:
Brent Crude having fallen again to nearly $50 as of today (6-Aug)
Good rainfall in all Guar growing areas of India
Expectation of a good Guar crop for 2015 and
Very little demand of Guar Gum from the fracking industry
Guar splits prices have again declined to levels last seen in March this year.
Some arrivals from the new Guar crop should begin by the second half of Oct-15 and if there has been no pickup in demand from the fracking industry by that time, Guar prices will decline further.
We have ready stock of Fast Hydrating Guar in Houston and would be glad to service any spot requirements from the fracking industry.
https://www.premcemgums.com/wp-content/uploads/2014/11/guar-gum_thumbnail.jpg
240
400
pgpl_admin
https://www.premcemgums.com/wp-content/uploads/2014/11/premcem-logo-300x104.png
pgpl_admin
2015-08-06 16:45:04
2015-08-06 18:11:42
Guar Market & Indian Southwest Monsoon Update