Guar Crop 2023 estimates/guesstimates

It is a bit early to give out the 2023 crop estimates but on the basis of initial info that has been gathered from the market we can give you the following figures:
Guar Seed 2023 crop estimate = 7.5 million bags of Guar Seed of 100 kg each = 210,000 MT of Guar Splits
Carryover (guesstimate) of Guar Seed and Guar Splits (equivalent quantity of Guar seed bags considered) = 12.5 million bags of Guar Seed of 100 kg each = 350,000 MT of Guar Splits
Indian Southwest Monsoon 2023
The monsoon has been good for the major Guar growing states of Rajasthan, Haryana and Gujarat (a far third). Please see the map below in which the cumulative rainfall received so far, in the important meteorological sub-divisions for the Guar crop, has been shown: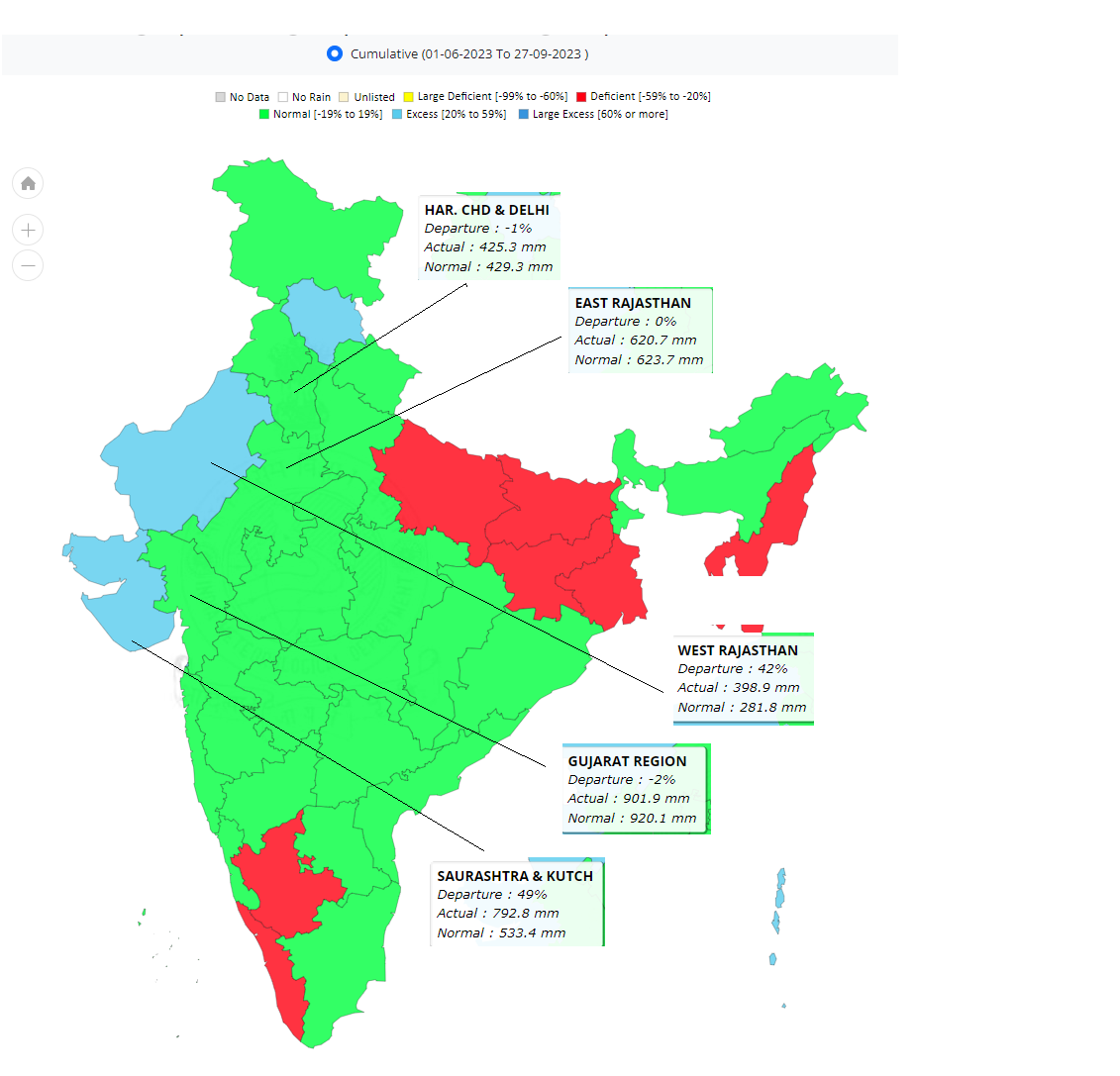 Source: IMD (click HERE to go to the IMD site)
Guar Gum demand
Guar Gum demand has been weak lately
Guar Splits prices
The combination of good rains, expectation of a decent size crop and weak demand have led to a decline in Guar Splits prices by around 10% over the past 3 weeks and we believe that this is a good opportunity to cover some volume for Q1 2024.
Hope all this info helps you in taking an informed decision about your purchases.
Lastly the picture associated with this post is of dried Guar pods from which the dried and hardened Guar Seeds are obtained for producing Guar Gum!
https://www.premcemgums.com/wp-content/uploads/2023/09/Dried-Guar-Pods.jpg
1025
1092
pgpl_admin
https://www.premcemgums.com/wp-content/uploads/2014/11/premcem-logo-300x104.png
pgpl_admin
2023-09-28 21:07:04
2023-09-28 21:07:04
Guar – good rains, decent crop, weak demand, lower prices