Hello everyone
In our last Guar Market Update on 19-Dec-14 (https://www.premcemgums.com/guar-splits-prices-at-a-4-year-low/) we had mentioned that Guar Splits prices were at a 4 year low. Since then Guar Splits prices have gone down nearly another 14% in Indian Rupee terms! The fall in USD terms has been slightly less (around 11.5%) as the Indian Rupee has appreciated against the USD in the same period. See the graph below for a visual depiction.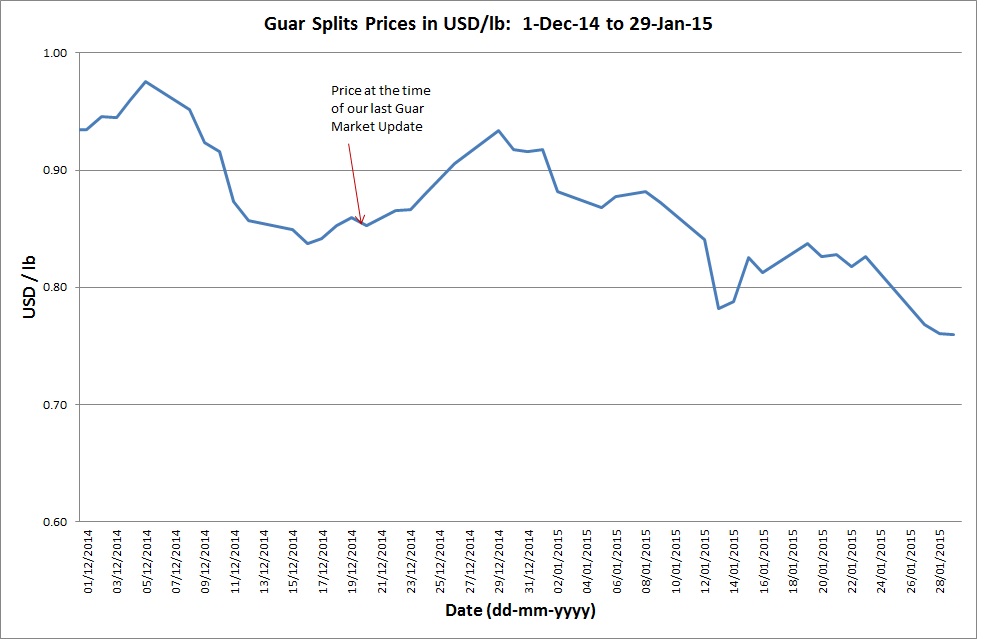 In the same period Crude Oil (NYMEX) dropped from $57.48/barrel to $44.53/barrel (29-Jan-15) – a drop of nearly 13% and more or less equal to the drop in the price of Guar Splits!
As is apparent the current price of Guar Splits, and hence Guar Gum, is being primarily driven by the movement of the crude oil prices. The general consensus among various stake holders in the Guar industry is that fracking activity will certainly be severely impacted in 2015 on account of the low crude prices, and which in turn will adversely impact the demand for Fast Hydrating Guar.
According to the Baker Hughes Inc Weekly Rig Count report, "U.S. Rig Count is down 90 rigs from last week to 1543, with oil rigs down 94 to 1223, gas rigs up 3 to 319, and miscellaneous rigs up 1 to 1.". This is the lowest the count has been since August 2010.
Just like so many analysts who were caught completely off-guard by the sudden and extreme decline in crude oil prices over the last 3 months, we too were caught  on the wrong foot. We did not see crude oil prices dropping to such low levels and so could not predict correctly that Guar prices would follow in tandem. We do not have a view on crude oil prices and hence we are unsure if Guar Splits prices will go any lower; so we would advise that buyers may consider covering only for their immediate requirements at this time.
Regards
Premal Joisher
https://www.premcemgums.com/wp-content/uploads/2014/11/guar-gum_thumbnail.jpg
240
400
pgpl_admin
https://www.premcemgums.com/wp-content/uploads/2014/11/premcem-logo-300x104.png
pgpl_admin
2015-01-31 10:25:18
2015-01-31 11:31:12
Guar Splits prices follow Crude Oil prices – down 14%!