Since our last Guar Market & Indian Southwest Monsoon Update dated 2-May-23, the IMD (Indian Meteorological Department) came out with an updated forecast on 26-May-23 wherein it is stated that "Region wise, the southwest monsoon seasonal rainfall is most likely to be below normal over Northwest India". Northwest includes all the 3 Guar growing states of India – Rajasthan, Haryana and Gujarat.
To see IMD's complete report pls visit
https://internal.imd.gov.in/press_release/20230526_pr_2353.pdf
Normally such a forecast would have resulted in an immediate and significant upswing in Guar splits prices. However on this occasion prices did not spike as Guar Gum demand has been quite weak for the last couple of months. Activity in the U.S. oil industry has certainly slowed down as can be made out from the Baker Hughes Rig Count report which came out yesterday and mentions that "U.S. Rig Count is down 15 from last week to 696 with oil rigs down 15 to 555, gas rigs unchanged at 137 and miscellaneous rigs unchanged at 4. U.S. Rig Count is down 31 rigs from last year's count of 727 with oil rigs down 19, gas rigs down 14 and miscellaneous up 2".
For your reference given below is our latest Guar Splits Price movement chart.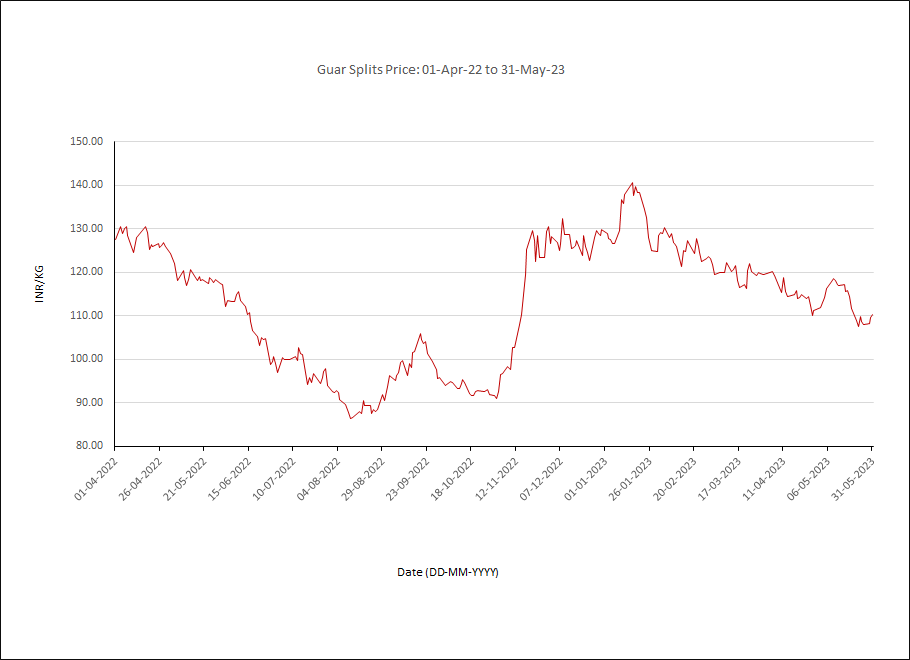 Guar sowing has somewhat begun in the irrigated areas of Haryana, but for the rain fed areas of Rajasthan sowing will only begin sometime in July (provided those areas receive at least a good first bout of rainfall). Apart from the below normal monsoon which might impact the Guar 2023 crop size, the crop size might also be impacted by farmers in certain areas choosing to raise crops, other than Guar, whose prices are more lucrative. But …. still early days to say anything with any level of certainty. So we will keep a close eye on the developments and will keep you posted.
https://www.premcemgums.com/wp-content/uploads/2022/08/guar-gum_thumbnail-750x500-1.gif
500
750
pgpl_admin
https://www.premcemgums.com/wp-content/uploads/2014/11/premcem-logo-300x104.png
pgpl_admin
2023-05-31 19:05:32
2023-06-08 22:09:56
Oil rigs down, Guar prices down!