The world is in turmoil and the Guar industry is no exception. Please see the chart below which depicts Guar splits prices (in USD/MT) from Jan-15 to Feb-16.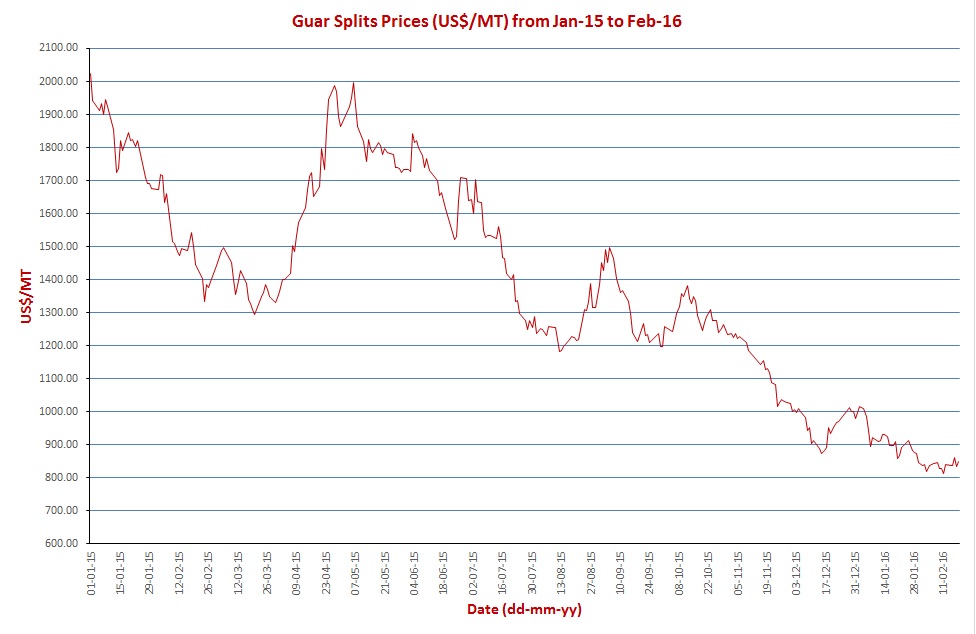 During the period shown above
North American Rig Count has dropped from 1811 to 763 – down nearly 58%
Brent Crude has dropped from $56.42 to $34.73 – down nearly 39%
Guar splits prices have dropped in Indian Rupee terms by 54% but in USD terms by 58%
From Oct-15 up until now, nearly 70% of the Guar seed from the new crop has already come into the markets and hence there is not that much pressure from the supply side. On the demand side Guar Gum exports, after having fallen significantly over the last 2 years, have plateaued and don't seem to be falling off a cliff anymore! In the US a lot of Fast Hydrating Guar Gum had been piled up in the second half of 2015 and it seems that most of this has now been used up.
So to summarise – things probably cannot get any worse (?!) as far as crude prices are concerned and with demand from food, and other non-oil industries, remaining stable, Guar splits prices should also remain confined in a narrow band between $800/MT to $950/MT. At present the Guar splits price is around $850/MT and hence any immediate requirements for the next 2 to 3 months should be covered at this time.
Further purchase decisions can then be made based on the Indian Meteorological Departments's first Long Range Forecast for the 2016 Southwest Monsoon and which should be available by Apr-16.
https://www.premcemgums.com/wp-content/uploads/2014/11/guar-gum_thumbnail.jpg
240
400
pgpl_admin
https://www.premcemgums.com/wp-content/uploads/2014/11/premcem-logo-300x104.png
pgpl_admin
2016-02-18 17:00:59
2016-02-18 17:07:06
Guar Gum – all the bad news seems to be priced in!